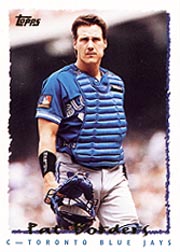 © 1995 The Topps Company, Inc.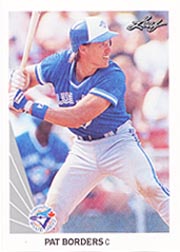 © 1990 LEAF, INC.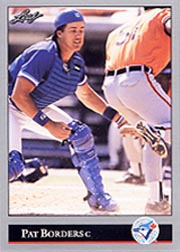 © 1992 LEAF, INC.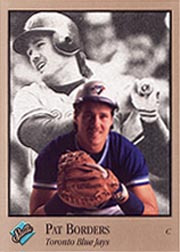 © 1992 LEAF, INC.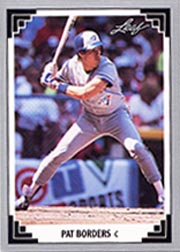 © 1991 LEAF, INC.
by
Alan Melchior
special to Canadian Baseball News
In the past year, baseball fans have been treated to a number of inspiring stories involving players in their mid to late thirties. Late last summer, there was the meteoric rise of 35-year old Jim Morris, who in less than a year's time went from being a Texas schoolteacher to a major league pitcher with the Tampa Bay Devil Rays. This year, a 37-year old career minor leaguer named Joe Strong made his big league debut in the Florida Marlins bullpen. All season long, we've witnessed the inspiring comeback of 39-year old Andres Galarraga from non-Hodgkin's lymphoma. Now add former Blue Jays' catcher Pat Borders to the list. After several lean years, the 37-year old former World Series MVP experienced glory once again by leading the U.S. national Olympic baseball team to its first gold medal.

It's been a long road from stardom in the first international World Series to Olympic heroism for Borders. After the championship years of '92 and '93 and the strike-shortened season of '94, he became a free agent and signed with Kansas City. Following a brief stint with the Royals, he played for Houston, St. Louis, Anaheim, the Chicago White Sox, Cleveland, and finally a second engagement with Toronto, never returning to the starting role he held prior to '95. After spending the entire 2000 season with the Devil Rays' AAA team in Durham, fans could be forgiven for thinking Borders' best baseball moments were behind him.

It took a freak injury to retired A's and Twins catcher Terry Steinbach to create an opportunity for Borders to shine in Sydney. The team's selection committee wanted Steinbach for his veteran experience to guide a young pitching staff composed almost exclusively of minor league prospects. However, a waterskiing accident led to hamstring surgery in August, just before the committee was set to announce the team roster. Borders, who was hitting .273 as Durham's regular catcher, was recruited to fill the spot slated for Steinbach.

Manager Tommy Lasorda had been alternating Borders with the Twins' Marcus Jensen at catcher, but in the United States' first matchup against gold-medal favorite Cuba, it looked as if Borders' Olympic season was going to be cut short. In the bottom of the eighth inning, Borders absorbed a spike-high slide from pinch-runner Yobal Duenas. Though he had clearly been in agony as a result of the collision, he not only returned to bat in the top of the ninth, but he drove in the only run that the U.S. would score in the 6-1 loss.

When the U.S. and Cuban teams squared off again in the gold medal game, Borders would play a key role in the upset victory. He collected two hits, including a double in the fifth inning that drove in the first of three runs in that frame, building a 4-0 lead that the U.S. would not relinquish. Perhaps more importantly, Borders caught an impressive three-hit complete-game shutout by 22-year old Brewers prospect Ben Sheets.

When Borders returned to Toronto near the end of the 1999 campaign, it had the feel of a curtain call. He appeared in half a dozen games, starting just four of those. To be sure, it was a nice gesture by the Blue Jays organization, but it certainly was not as satisfying to his fans as the vital contribution he made to an historic run at an Olympic gold medal. And all baseball fans can relish the story of a veteran catcher who, in the twilight of his playing days, recaptured the glory that most players aren't lucky enough to experience even once in their careers.