Anthony " Tex " Simone, 86, of Syracuse, New York, passed away peacefully with his loving family by his side on
Friday 6 March 2015.
He was born and raised in Syracuse, the son of the late Dominic and Rose (Campanella) Simone.
Tex was a long time communicant of Our Lady of Pompei/St. Peter church and a member of the Holy Name, as well as a member of the IAAC (Italian American Athletics Club).
In his 86 years, what didn't Anthony 'Tex' Simone do … and do well ?
In the 1940s, he was All-City in baseball and basketball at North High …
During the Korean Conflict in the 1950s, he was a Platoon Sergeant with the 354th Engineer Battalion of the United States Army …
Later, he was a collegian, a husband, father, grandfather, uncle …
And for six decades in his hometown, a most decorated Triple-AAA baseball executive.
The road leading to the Syracuse Chiefs' stadium is named for him … TEX SIMONE DRIVE.
Ken Levine, who broadcast Chiefs' games in 1988, created a fictional character for an episode of ' THE SIMPSONS ' - Antoine 'Tex' O'Hara, owner of the Springfield Isotopes - based on Tex, who passed away Friday.
When he left his post as the community-owned club's Chief Operating Officer/ Executive Vice-President two years ago, Tex said, " As a Syracuse native, my love for this community and the ballclub has never wavered."
International League President Randy Mobley put it this way: " Tex Simone is not only an International League icon, but an icon throughout minor league baseball … the league has not seen a more humble and considerate individual on its Board of Directors in our lifetime."
His accomplishments are many and well-documented. He's been honored by countless civic groups for his community service, always performed in a most understated manner. Yet this unpretentious man with the simplest of monikers was a member of five Halls of Fame - Greater Syracuse Sports Hall of Fame (1991), Syracuse Chiefs Wall of Fame (2001), International League HOF (2008), Le Moyne College HOF (2011), North High School HOF (2012).
And testament to his withstanding the test of time were his six IL Executive of the Year awards, one he shared with his son, John, in 1998, spanning a quarter-century.
When it comes to major league executives, there's none better than the Phillies' Pat Gillick, who said of Tex:
" I never, ever worked with another Triple-A general manager more committed to the game. He was committed to the fans and people of Syracuse ... No one understood the major league club, but also his constituency, better than Tex … We had a business relationship and friendship … When I was with the Yankees and the Blue Jays, I enjoyed coming to Syracuse and being in the company of a true, true baseball person. "
Tex may not have always looked the part of the baseball exec. No expensive three-piece suits or tasseled loafers. During a lengthy rain delay, you might see him in rubber hip boots, helping the ground crew.
" I remember driving to the stadium and seeing Tex outside, mowing grass. Or he'd be inside, on a tractor, mowing … He was a hard-working guy, " said broadcaster Sean McDonough, who voiced Chiefs games from 1982-1984 while an undergraduate at Syracuse University.
Not a glib speaker himself, Tex Simone simply spoke from the heart.
" When I first met him, I thought he had a gruff exterior, " McDonough recalled. " I wondered, 'Did this guy even like me ?' ... Over time, I came to realize, he cared about you … He cared about you a lot ! "
McDonough's voice became choked with emotion.
" I was happy that, years later, I was able to know he was proud of me. He'd given me a launching forum. He has meant an awful lot to me … There are a lot of us who were at WAER ( SU's student radio station ) who owe a tremendous debt of gratitude to Tex," said McDonough. " He gave us the chance to start our career as students. "
" He cared about the players," said Baseball Hall of Fame Manager Bobby Cox, who played here in 1970. " He was one of us ! "
Syracuse meant a lot to Tex Simone. While he could have joined the Detroit Tigers in 1968, he chose to remain in the Chiefs' front office - as business manager and also handling public relations duties.
So many have been helped along the way by Tex.
" Of all the general managers I worked for in the minor leagues, Tex stood out," said Cox, the Chiefs' manager from 1973-1976. " He taught me to play the game. When it rained, he'd wait to call it. I agreed one thousand percent.
" You don't want more doubleheaders … I never forgot that. "
" There is no doubt," McDonough declared, " I never would have been doing television of the Red Sox as a 25-year-old had it not been for Tex Simone.
" I - like many, many others - owe him an eternal debt of gratitude. "
Tex had come from the ground crew in 1961, rake in hand … to rubbing sore arms as the trainer … arranging bus trips and hotel rooms as traveling secretary … to convincing a parent club's farm director that one more seasoned southpaw solves his staff's bullpen woes.
For 27 seasons (1970-1996), he was the Chiefs' General Manager. And yes, victories did not outnumber defeats. But there was the halcyon season of 1970, when Frank Verdi's club won the IL pennant, Governors' Cup playoffs and Junior World Series.
That would be the season of seasons in Syracuse Chiefs' history.
There were other pennants won, by Doug Ault (1985) and Bob Bailor (1989), and five additional playoff finals, including the Governors Cup won by Cox (1976).
It is, however, not all a case of W's and L's ... Or even the balance sheet.
" No detail escaped him," said McDonough. " I remember a couple of foul balls coming back into the broadcast booth, and I tossed them down in the crowd. After one, the door opens. It's Tex - reminding me of what a baseball costs and that they can be used for batting practice.
" That was the last ball I threw away ! "
When it comes to Anthony 'Tex' Simone, it was more a matter of keeping baseball in our town than just the business of baseball itself.
" … if it had not been for Tex Simone's efforts in the early 1990s, the team would not be at that existing ballpark (now NBT Bank Stadium)," IL President Mobley said, " and may not be in that city for that matter. "
Savior of the franchise … Patriarch of modern-day baseball in Syracuse.
Yes, indeed. Job well done !
He was predeceased by his six siblings, Archie Simone, Marie DeGroot, Ann Santola, Nicholas "Nick" Simone, Louise Michaels and Dominic Simone.
Tex is survived by his loving wife of 59 years, Joanne (Venditti) Simone; his two children, Wendy (Steven) Shoen of Syracuse and John (Mary) Simone of North Syracuse; six grandchildren, Andrew (Mari), Adam, Ariel, Alexander, Aaron and Karen; many nieces, nephews and cousins.
A Funeral Mass in celebration of Tex Simone's life was conducted at 10:00 a.m. on Tuesday 10 March 2015 at Our Lady of Pompei/St. Peter Church.
Entombment followed in Woodlawn Cemetery Mausoleum.
====================
====================
====================
====================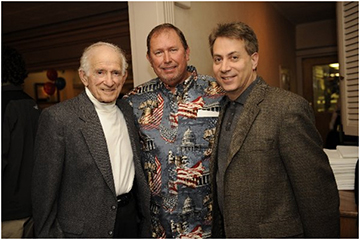 TEX SIMONE, DENNIS HOLMBERG AND JOHN SIMONE ( 2009 )
WHAT SOME SAID ON THE DEATH OF TEX SIMONE -
" It's a sad day for the Chiefs. It's not often you get to know a legend or meet an icon. And I knew Tex Simone and Tex
is a legend in the world of baseball. He was one of the guys who spearheaded the charge to save this team back in the day, and we are the ones charged with saving this team now. To keep Tex's legacy alive, we need to get up and go to work every day. "
-- JASON SMORAL - General Manager of the Syracuse Chiefs
====================
====================
====================
====================
" Tex sacrificed his own health, his well-being. He lived and died for the Syracuse Chiefs.
A great memory I have of Tex came in the Summer of 1977 when I was late getting the bus to work so was walking down Oak Street when a car stopped in front of me ... It was Tex who asked if I needed a ride at which I got into his car and he drove me along to the Cleveland School where I was then working as a recreation-lunch aide for the Syracuse Parks Department.
Years later Tex would see me after Mass at our Lady of Pompei and ask if I needed a ride home ... Tex also served as an usher at the 8 a.m Sunday Mass and would give me a nudge with the collection basket to say hello ... At communion we would always shake hands.
When I last saw him at lunch with a group of mutual friends at the Gem Diner in December I gave him a big hug and said ' Hello Papa Tex ' ... He would always motion to me to sit next to him at our Friday lunches over time.
To think I still remember seeing him as the man in the white outfit as the team trainer back in June 1963, when I attended my very first baseball game, to my last visit with him was now 51 years on.
He later helped us when we started the Chiefs Knot Hole Club in 1977 ... He would have a signed letter posted on the clubhouse door with various player names saying to please sign autographs for the Knot Hole Club Friday night autograph sessions which I would announce to the press.
I will always keep Tex in my prayers with affection and the sacrifices he made of his own health just to keep baseball in Syracuse which so many people never knew."
-- MARTY NAVE - Syracuse resident and lifelong Syracuse Chiefs Historian and a great fan of the game of baseball
====================
====================
====================
====================
Honorable ... Considerate ... A Man Of His Word ... Underappreciated ... Forward Thinking ... Did His Job ... Family Man ... Beloved By His Peers ... He Will Be Missed.
-- JEFFREY W. MOREY, Syracuse Chiefs Historian, Photographic Chronicler of the team and International League as well as a lifelong great sports fan
====================
====================
====================
====================
" Tex was always great. I loved Tex. Tex was like family. He always took care of me.
" I remember one of my thoughts was the last time I talked to Tex, and the last time we talked about something, was I remember that Danny Ainge and I wanted to go to the Adirondack factory and get some bats. He was like, 'OK, Boomer, go get some bats. Go get three or four.
" We came back with a dozen. He said, ' Does that look like three or four ?' He just sort of laughed, and said, ' You better hit.' But Tex was always like that. Tex was the nicest guy you'd ever want to meet. Tex was great for the community, and he was great for the team. "
GREG " BOOMER " WELLS -
Former Syracuse Chiefs Player
====================
====================
====================
====================
" He was a pleasant man. Every day that I came to the ballpark and saw Tex, it added a little to my day. He always had a little smile, something good to say.
" He was like our No. 1 fan. In my mind, he was a legend. For him to have that type of energy and enthusiasm about the game of baseball is something special. He was always giving me a thumbs up, let's go get them. I'll always remember that."
TONY BEASLEY -
Former Syracuse Chiefs Manager,
now 3B Coach for the Texas Rangers
====================
====================
====================
====================
" Tex was known as a players' general manager. He came along from the trenches of being just a grounds crew guy to a trainer to a traveling secretary all the way up to a general manager.
" The thing I remember about Tex is when I got released in 1981, he called me first. He wanted me to hear it from his mouth. That shows what kind of man he was. If anybody has an unkind word to say (about him), that person should be ashamed."
STEVE GRILLI -
Former MLB Pitcher and Syracuse Chiefs
Broadcaster and current Television Analyst
====================
====================
====================
====================
" I have maintained that Tex Simone and his family were always kind and considerate to me personally. Beyond that, he was always supportive of ways in which the Syracuse and Rochester ballclubs could help one another, and beyond that, I noted he was well respected by many of his peers in the International League."
-- GARY LARDER -
Chairman of the Board, Rochester Red Wings Baseball Club
====================
====================
====================
====================
" He's certainly an International League icon. I always remember how nice he was to me even as a young guy starting out in the business. He was always very approachable.
" He was a tremendous voice of reason in our league. Sometimes people would have varying opinions. But usually the last word was when Tex got up and gave his. And he was right. He had an incredible ability to know what was best for our game and our league. He made the International League the strongest minor league in the minor leagues, in my opinion.
" I'll just remember sitting next to him on a bus, going from one function to another. Listening to him tell stories are some of my fondest memories. It was always great to see him. I knew he would make me smile and make me laugh. He will be missed. "
DAN MASON -
General Manager, Rochester Red Wings
Baseball Club
====================
====================
====================
====================
" I owe Tex Simone my career. I was a 21-year-old college kid when Tex and John (Simone) gave me a chance to be a Triple-A broadcaster a month before my graduation from Syracuse University (in 1985). He was a very kind man and I can't think of anybody who didn't like him. I loved the guy. I'm going to miss him dearly."
DAN HOARD -
Former Syracuse Chiefs Broadcaster and now voice
of the Cincinnati Bengals and Cincinnati basketball
====================
====================
====================
====================
" The thing from afar that stood out was his passion for the game, his passion for what he did. He just had a presence there constantly. You knew as a visiting player going in there, the family was a big part of the Syracuse Chiefs. "
-- DOUG HARRIS -
Former minor league pitcher and now
Assistant General Manager of their
parent club, the Washington Nationals
====================
====================
====================
====================
" Both personally and professionally, he was at the top of the list for me. He set a wonderful example. He lived by the golden rule. In my book, you can't get any higher than Tex Simone.
" His legacy should be that he was a huge part of the success of that franchise. He was just very, very well thought of. People had great respect for Tex. "
RANDY MOBLEY -
President of the International League
====================
====================
====================
====================
" It is with sadness that we note the passing of Tex Simone. Tex started at the bottom of the Chiefs organization and
worked his way up to the top. He was a driving force in building NBT Stadium and his efforts helped keep the team
here for so many years. I appreciate all Tex did for the whole community. My thoughts are with the Simone family.
May you find peace in the memories you have and in the knowledge that he will be missed by many."
JOANIE MAHONEY -
Onondaga County Executive
= = = = = = = = = = = = = = = = = = = = = = = = = = = = =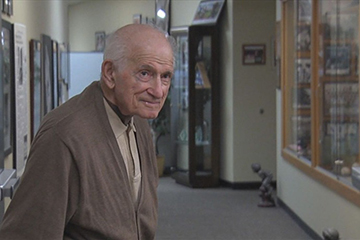 WEBPAGE TO VIEW -
http://www.syracusehalloffame.com/baseball/tex-simone
= = = = = = = = = = = = = = = = = = = = = = = = = = = = =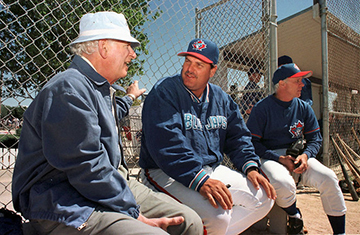 TEX SIMONE, TERRY BEVINGTON and JIM HOFF
VISITING AT BLUE JAYS SPRING TRAINING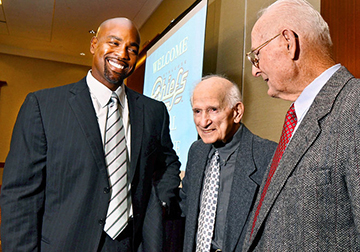 CARLOS DELGADO, TEX SIMONE and BILL MONBOUQUETTE
AT 2012 ANNUAL SYRACUSE CHIEFS HOT STOVE NIGHT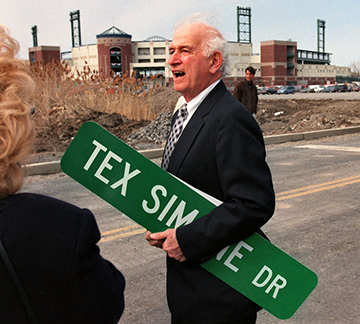 ON THE DAY THE RING ROAD WAS NAMED TEX SIMONE DRIVE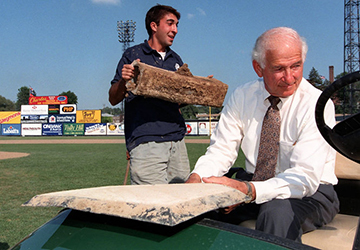 REMOVAL OF PITCHING RUBBER AND HOME PLATE AFTER
FINAL GAME AT MacARTHUR STADIUM ( 3 SEPTEMBER 1996 )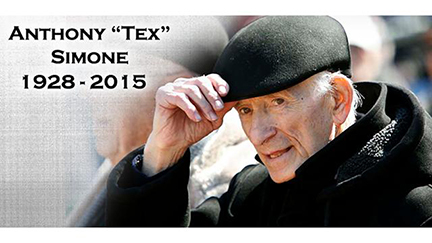 = = = = = = = = = = = = = = = = = = = = = = = = = = = = = = = = = = = = = = = = = = = = = = = = = = = = = = = = = = = = = = = = = = =