West Palm Beach, Florida — In one way, the opening of The Ballpark of the Palm Beaches in 2017 was a homecoming for the Washington Nationals.
When the franchise was originally known as the Montreal Expos, they trained for years in West Palm Beach, at the old West Palm Municipal Stadium, which they shared with the Atlanta Braves from the franchise's origin in 1969 to 1997.
Now, 20 years later, the relocated Expos made their official return to West Palm Beach with the first game of the Nationals' new spring training home — a home they will share with the Houston Astros.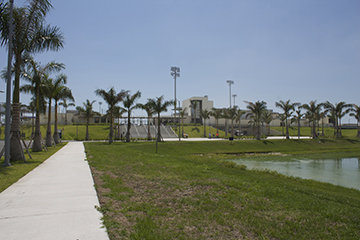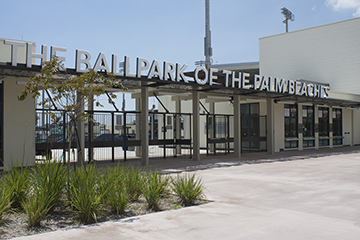 The Washington Nationals' clubhouse in The Ballpark of the Palm Beaches is enormous.
It is much bigger than almost all others.
It has 10 huge TVs.
Its teak — or is that cherry wood ? — is glistening new.
Its leather seats and sofas shame that classy but uncomfortable antique stuff found in most other clubhouses, and has a gigantic " W " in its ceiling which throbs on and off with light.
How big is that lit-from-within " W " ?
Probably bigger than the one in right field at Nationals Park.
If they peeled back the roof you could most probably see it from outer space.
There are no bad seats in the stadium and you can walk all the way around to check various vantage points.
Two really great areas are the open-air overhead party decks which afford marvelous views looking out over the field from either side.
There are a number of very good food choices at the concession stands, as well.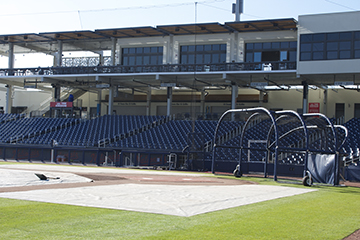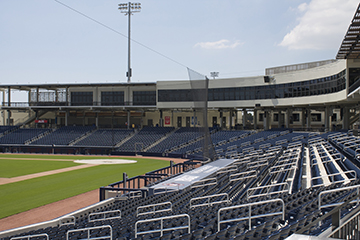 The Nats' complex is so vast — with six fields, including two that duplicate Nationals Park, right down to the quirks and corners in the outfield walls — that you sometimes shake your head at the contrast with the past.
In one fenced spot, you can have 20 pitchers throw side-by-side simultaneously off 20 mounds.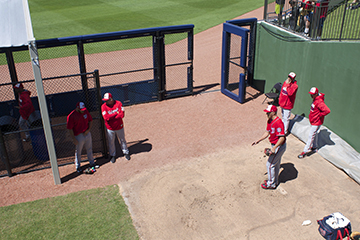 The Nats' weight room is bigger than — and probably cost several times as much as — the entire Nats locker room at dilapidated RFK Stadium when the team came to D.C. in 2005.
The place is so sprawling you might forget that the Houston Astros also share its 160-acre campus — the Nats on the first base side, the Astros on the third.
You can't see or hear or even imagine the Astros, though dozens of them, including minor leaguers, are " over there " on the other side of a large, pretty park.
Suddenly, the Nats have as much as — and probably more than — any baseball team could possibly need in a spring training site after enduring a dozen years in which they coped with perhaps the worst spring site in MLB.
For 12 springs, the Nationals' ludicrously remote, bare-bones, windy, chilly practical joke of a spring home in Viera, Florida, had been embarrassing to those familiar with MLB standards.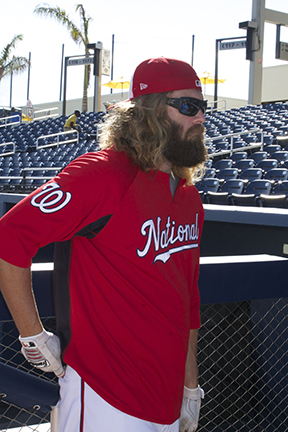 JAYSON WERTH - Outfield - Photo by Canadian Baseball News
The first time Jayson Werth got a full dose of the place in 2011, he said the people of Viera were very nice; they couldn't help that their fast-growing little town was so far from any other team's spring training camp. But " over time, this place is going to cost us free agents," Werth had said.
Viera itself, with its range of zany entertainment options, covering the gamut from lunch at Panera Bread to dinner at Panera Bread, wasn't a draw either.
Werth, other vets and senior Nats execs talked to ownership for years about the self-imposed competitive disadvantage Viera constituted for the Nats. How could a family worth billions not fix such an obvious issue ?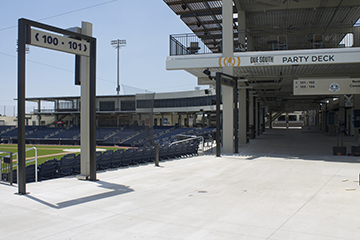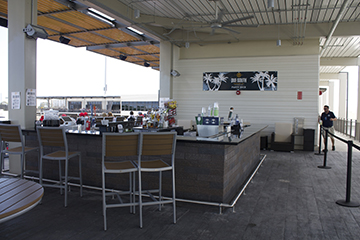 " Oh, this is much better," reliever Shawn Kelley said. " Can't be too warm for baseball. And it's nice not to get strep throat just from walking in the hallway."
Those three- to four-hour bus rides south to Jupiter — the city that just felt like an orbit away — might contribute to extra injuries. As for the vagaries of Florida weather, " everybody " knows that West Palm Beach, about 130 miles south of Viera, is generally warmer. Being located in West Palm Beach the highs every day should be between 78 and 87 degrees.
The Lerner family explored options in both Fort Myers and Kissimmee, however these never panned out.
Like every other MLB team in every other ballpark negotiation, they wanted an enticing deal from the lucky town that got them.
Many nagged owner Ted Lerner that a decent spring training site was a core essential of a proper operation, not a frill to give his fans a fancier destination in winter. Plus, for a fraction of the cash he had spent on some free agents, he could build a very good one.
The projected cost of the Ballpark of the Palm Beaches was originally quoted as being $ 135 million, about a third of which was paid by the teams — but with that cost paid over the course of their lease, in part through use fees. Yes, sounds pretty sweet. Any overages, guesstimated at about $ 15 million, are paid by the teams.
The crowd for Opening Day in 2017 was announced at 5,987, which officially was not a sellout as there were a surprising number of empty seats, given the attention this project had received locally and the money — now estimated to be as high as $ 153 million when the final costs are tallied up.
State and local governments are on the hook for $ 135 million of those costs. The Lerners are reportedly responsible for at least $15 million in cost overruns.
Major League Baseball Commissioner Rob Manfred flew in via helicopter to lend his presence to the event and pronounced it an economic boon.
" We are fortunate that both the state of Arizona and the municipalities out there and the state of Florida have realized that spring training is a great economic force in terms of driving tourism," Manfred said. " As a result both states and local entities have made a great partnership with Major League Baseball to make sure that spring training remains a special time of year."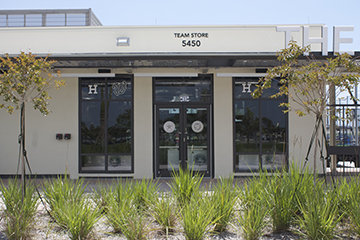 Manfred was here in November 2015, when they broke ground for the complex.
" It is an amazing feat to build a complex this extensive in 15 months," he said. " I know that along the way there were some nervous people, but here we are, up and running and it's great for everybody."
On the other hand, Viera was an uncrowded bargain, a chance to see players up close at a fraction of MLB prices and have a pleasant if unspectacular Florida vacation in whatever price range suited them. Public golf course, drinks in a tiki-hut bar on the beach at sundown. Even oceanfront rooms in Melbourne Beach, 25 minutes away, were cheaper than an airport motel room here at ritzy Palm Beach International.
So if you're headed here, bring your wallet. After all, Palm Beach is the " polo capital." When it comes to more-money-than-taste, this is the place. If you want to find a town that epitomizes income inequality — filthy rich and dirt poor — come here.
Is it actually possible that BPOPB could be a competitive advantage — a reason for a free agent to become a Nat?
" Stuff like that's for real. It can factor into a decision if you are trying to sign a free agent — this could gain us one," Kelley said. " If you can come to a beautiful area and your family is happy, there's things for your kids to do while you're getting ready, then you have peace of mind."
The team, though, seems to love it, and the amenities for training and working with young players from their minor league system is a benefit to the baseball operation. It also will help the Nationals with traveling for exhibition road games. As the spring training landscape has changed in Florida, there were less and less teams within close bus riding distance to the Nationals old home in Viera. Now they share the facility with the Astros, and have two more teams, the St. Louis Cardinals and the Miami Marlins, just 15 minutes away, and further north, the New York Mets in Port St. Lucie, about an hour away.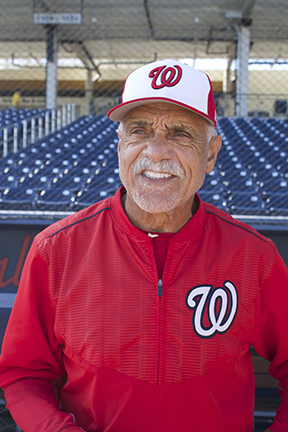 Davey Lopes - First Base Coach - Photo by Canadian Baseball News
It's not your father's spring training home, that's for sure. The business of spring training has changed dramatically since the Montreal Expos left West Palm Beach, and moved into a brand new shared facility just up the road in Jupiter, Fla. That move may have kicked off the race for the upscale new ballpark homes for baseball teams and the competition between Arizona and Florida to build those expensive new training complexes to lure teams away or convince them to stay.
Roger Dean Stadium opened in 1998, the new home for the Cardinals and Expos ( who were forced to move to Space Coast Stadium in Viera, the Marlins spring training home in 2002, when owner Jeffrey Loria bought the Marlins and sold the Montreal franchise to Major League Baseball ).
This was one of the first upscale training complexes — the other being the Expos old co-tenant from West Palm Beach, the Braves, who moved into the Walt Disney World Resort ballpark which opened in 1997.
Spring training hasn't been the same since — particularly the costs, as Roger Dean Stadium cost only $ 28 million when it opened 20 years ago.
" The spring training facilities just seem to get better and better," Manfred said. " You see little features, for example, the great facilities that we have in Arizona that the Nationals have incorporated into the facility here. The stadium bowl itself is actually first rate. The back fields and practice areas are amazing as well."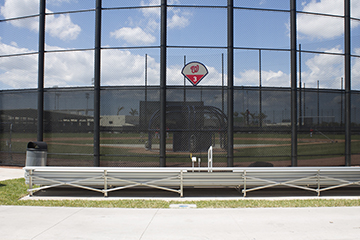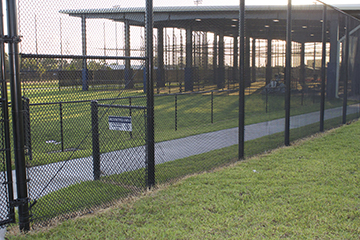 " This is an exciting time of year for baseball. I think the idea that baseball being back in and of itself is exciting enough, but spring training has a special feel," he said. " You add to that having a new facility, governments that have supported our game in the state of Florida, it makes for a really dramatic day."
All of the extra hours wasted on bus trips are stolen from family time in a business where time with Dad can be painfully thin.
" Baseball is a six-month grind as it is. You don't want to start that grind seven weeks earlier," Kelley said. " Last year, I didn't even want to bring the kids down. They're just going to be miserable. What are they going to do? Last year I told friends and family, 'Maybe go to Miami or Tampa.' Now I'm, 'Come on, come on.' "
The difference in a year is so stark that, driving over the causeway here, you have the illusion that the water is a much " richer," clearer turquoise — entirely different water — than a similar causeway near Space Coast Stadium in Viera.
" That's not an illusion," Kelley said. " The water is clearer here. Should be better fishing. Oh, it was brown with algae in it [in Viera]. Here you can see all the way to the bottom.
" Yup, they've even got better water."

WEBPAGES -
West Palm Beach – 30 June 2017